Sidify Music Converter for Spotify is the fastest Spotify Music Converter on Mac & Windows which can convert Spotify Music at 5X faster speed as well as keep 320kbps quality than other DRM removal programs do. Furthermore, it can also keep ID3 tags after converting.
1: Run Sidify and click "

" button, you will get the registration window. Copy and paste the registration Email and Code into the registration pop up dialog.
2: Fill the two blanks with your registration Email and product code you have received from the email. Then click OK.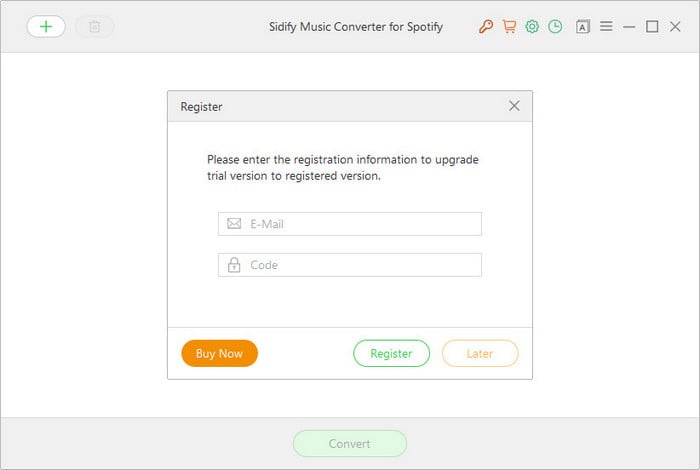 1: First, please make sure that you have downloaded the right program.
2: The registration code is case sensitive. And, please do not add blank at the beginning or the end of the word. You can also copy and paste the Email address and Code into the registration pop up dialog.
3: If you are sure that you are running the right program and following the direction but still get the error message, please contact our support team via support@sidify.com for help.
Important Notes: Since Jan.19th, 2017, Sidify Music Converter for Windows adopts a new registration mechanism. New users who purchased Sidify Music Converter for Windows are required to register the program with Email address and registration code. For old users, it's still available to register with registration name and registration code.
It's the limitation of trial version, which only allows trial users to convert first 3 minutes song for sample testing. To unlock this restriction, please purchase a license.

Now, Sidify Music Converter for Spotify is specially designed for converting Spotify song and Spotify playlist to MP3, AAC, WAV or FLAC format.
Intelligent Mode is a combination of Spotify Record Mode and YouTube Download Mode. When you choose "Intelligent Mode" in Sidify setting window, the conversion rate would be increased a lot thus you can get the Spotify tracks as needed.
Of course, you can. Sidify supports converting the entire playlist by coping & pasting the playlist link to Sidify pop-up window, or dragging & dropping the playlist from Spotify.
Tip: If you want to convert a playlist with more than 200 songs, we suggest you should open the playlist on Spotify, select all files in the playlist and drag & drop them to Sidify program for converting. Or we suggest you'd better create some new playlists and separately add them for converting.
Before converting, you can choose to sort the output music files into folders by "Artist/Album", "Artist", "Album", "Artist/Album" or "None" in Sidify setting window, so that the files would be organized properly.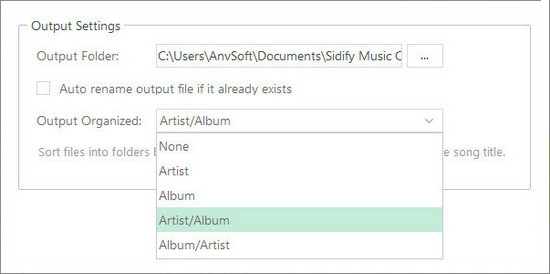 Please contact our support team at support@sidify.com for help. 1.Try to provide us with a converted music file for testing. 2. Please tell us which conversion mode are you choosing? (Spotify Record mode or YouTube Download mode?).
If you want to download the songs in full volume, we suggest you can change the setting in Spotify. The most important thing is to uncheck the "Set the same volume level for all songs" box in spotify.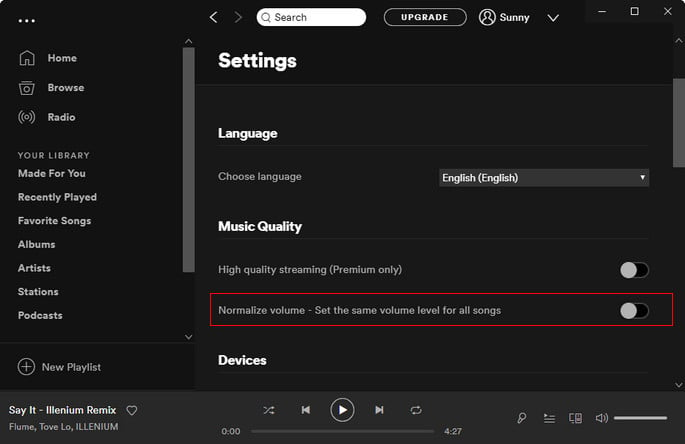 Now, users can submit their feedback through Sidify program by clicking Sidify menu button and choose "Feedback" in the drop-down list.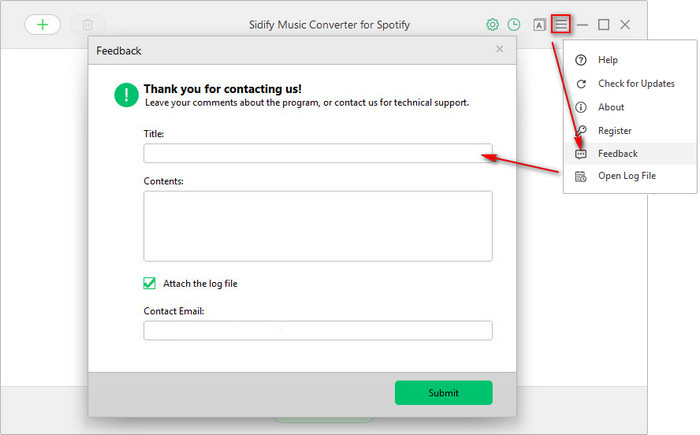 Currently, our program doesn't support the Spotify downloaded from Windows 10 Store. If your Spotify is downloaded from Windows 10 store, you may see a pop-up message like "Spotify is not found..." or "Couldn't find Spotify client.." after launching Sidify program. To fix the issue, please fully un-install Spotify and reinstall Spotify from it's official website.
Tip: Try manually to delete the spotify folder located in WindowsApps folder after you uninstall Spotify before re-installing the desktop version.
Note: If multiple devices are logged into the same Spotify account, please make sure you are selecting "This Computer" to play the audio on Spotify when downloading Spotify music with Sidify program.
1 Error Code 1001:
Cause: Spotify may not be installed properly.
Solution: Please refer to our Solutions of Error 1001.
2 Error Code 1002 (Error 1007 or Error 1008):
Cause: Can't play the current music on Spotify
Solution: Please refer to our Solutions of Error 1002.
Tip: If you were manually launching Spotify App, please re-launch Sidify program for a try.
3 Error Code 1004:
Causes: Can't play current music on Spotify; Spotify crashes after clicking "Convert" button
Solution: Please re-convert the music or adjust some settings on Spotify by referring to Solutions of Error 1004.
Note: If above solutions still cannot fix your problems, please provide the following information to our support team via support@sidify.com. We will submit your feedback to our developer and inform you if the solution is available.
Which Windows OS are you using? 32 bits or 64 bits?
What is the output format you choose?
Please send us two log files of Sidify. You can find them by going to the Sidify program, Menu > Open Log File. They are called log.txt and record.log.