Here is a list of the most frequently asked questions about Sidify Music Converer Free. If you cannot find the answer to your question, feel free to contact us via support@sidify.com.
The main difference is that you can use Sidify Music Converter Pro to your needs by directly download music from Spotify with the best output audio quality and keep all ID3 tags. Learn more different features available in Sidify Music Converter Free and Pro through: Free vs. Pro.
Sidify Music Converter Free is currently only available to Windows users who own a Windows computer with access to the network or WIFI.
This program is free to download for everyone and free to use for customers.
Sidify Music Converter Free mainly convert Spotify music with Spotify URL from Spotify or other web URL link of Spotify music to MP3, AAC, WAV or FLAC format.
Of course, you can. Sidify supports converting the entire playlist by coping & pasting the playlist link to Sidify pop-up window, or dragging & dropping the playlist from Spotify.
Now, users can submit their feedback through Sidify program by clicking Sidify menu button and choose "Feedback" in the drop-down list.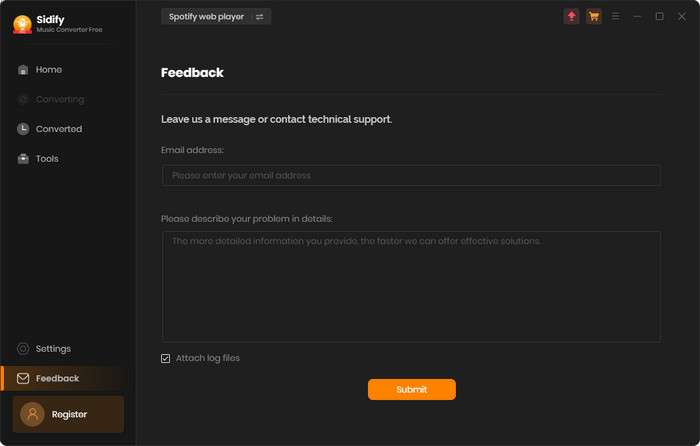 1 Error Code 1001:
Cause: Couldn't find the source of these songs on YouTube.
Solution: Some music files may not be converted successfully. We suggest you can convert these music by using the Pro version of Sidify Music Converter.
1 Error Code 1002:
Cause: Network timeouts during searching and downloading.
Solution: Please make more tries to re-add the music and convert for a try.
Note: If above solutions still cannot fix your problems, please provide the following information to our support team support@sidify.com. We will submit your feedback to our developer and inform you if the solution is available.
Which Windows OS are you using? 32 bits or 64 bits?
What is the output format you choose?
Please send us the log file of Sidify. You can find it by going to the Sidify program, Menu > Open Log File. It is called log.txt.