Best 5 Music Streaming Services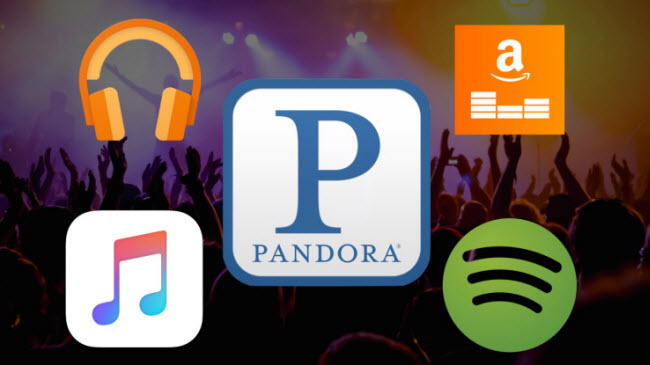 Music streaming service continued to show significant growth in 2016, according to Nielsen's year-end Music report. In 2016, Spotify and Apple Music together added more than 20 million subscribers, boosting their numbers to 40 million and 20 million, respectively. Meanwhile, on-demand music streaming services like Amazon, Pandora and Google Play all debut their own on-demand streaming services.
We all love music, don't we? A lot of us are passionate about music and we, the fans, take our passions very seriously. So, it's important for us to know the best music streaming service across the globe. We need the best music service to provide us with the best online & offline music streaming experiences. There are a cluster of services competing for our time and cash. But which is the best for your listening habits? We've compared and picked out the best of the best known on-demand music-streaming services for you.
Spotify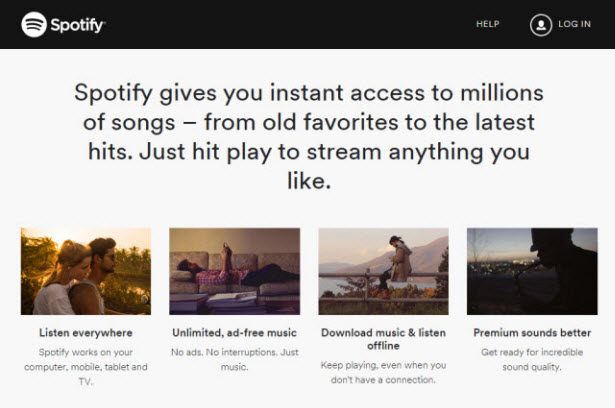 It's perhaps no surprise that Spotify is one of the widely preferred music streaming services which offers curated playlist creations, radio stations, favorite artists, recommendations and much more. With a reported paid user base surpassing 70 million subscribers — not to mention an astronomical 70 million additional listeners of its free, ad-based service. Now, paying users are allowed unlimited access to Spotify's entire catalog of music across a variety of platforms, while free mobile app users are confined to a shuffled radio-like feature. Spotify has better social features than its rivals, with the ability to add friends and see their playlists and listening, as well as a built-in messaging system to ping music back and forth. Creating and sharing your own playlists is easy too.
Key Features: Instant music, Playlists, Listen in Offline mode (only Paid user), Play local files, Share new discoveries, Third-party integrations.
Simplest Spotify Music Converter - When you need to convert Spotify music on your Mac's hard drive or other music player you love, the Sidify Music Converter for Spotify does it well and does it quickly. While it's a no-frills app, no other software may meet your needs better.
The Newcomer: Apple Music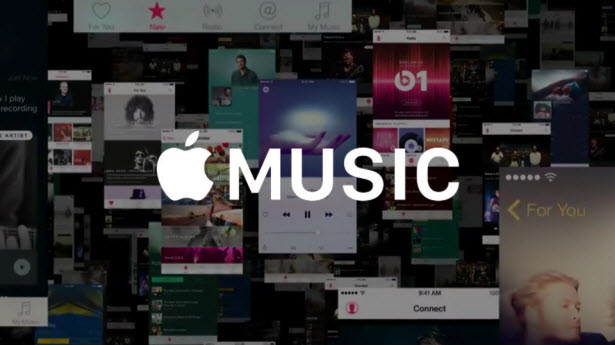 Apple Music may be the newcomer to the scene, but because of iTunes' and Apple's dominating presence in the tech market, it immediately became a serious contender in the online music streaming space. Its service is similar to Spotify's, and paying users have interactive access to an unlimited amount of music of their choosing. Unlike Spotify and Pandora though, there is no free plan available.
Like rival services, the core of Apple Music is a catalogue of recordings – 30m songs – to stream "on demand", with recommendations, themed playlists and radio-like stations to help people navigate it. Here, there's also a live radio station, Beats 1, and a social section called Connect.
Key Features: 25 million song catalog, recommended content, expertly curated playlists, Beats1 Radio, insanely long three-month free trial, Connect social network is a fun way to stay connected with bands.
Fastest Apple Music Converter - If you want to get your iTunes music files, M4P songs and audiobooks to get free from DRM clutches, then look no further as Sidify Apple Music Converter.
Pandora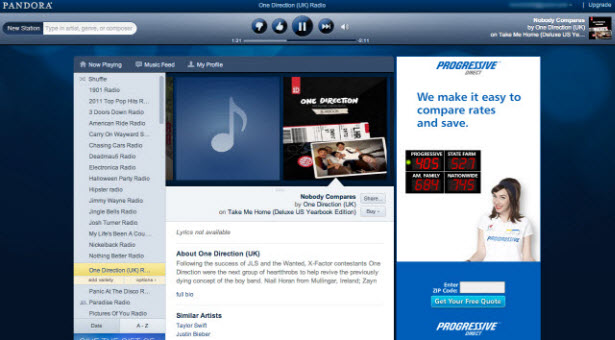 The oldest of the bunch, Pandora has been around since 2000, and in its 15 years of existence has attracted roughly 250 million users, though only 78 million are considered active. Unlike Spotify, Pandora is not an interactive service, and users instead create stations based around a genre, artist, or song. Premium subscribers, who make up roughly 5% if their users, don't have to listen to ads, and are allowed more song skips, though playback is still limited to the shuffled station format. Pandora offers organizing of tracks based on their genre, artist or occasion. You can create your own playlists by browsing through the available tracks on the network. Apart from regular playlists, Spotify also features recommendations for Daily top R&B songs, Daily top Country songs and so forth.
Registered users can personalize their own stations and let others discover their favorite music too. The only drawback to this service is that it offers support only in Australia, New Zealand and U.S., due to copyright and piracy issues.
Key Features: Music recommendations based on the Music Genome Project, free with ads or cheap premium edition, available on most devices.
Amazon Prime Music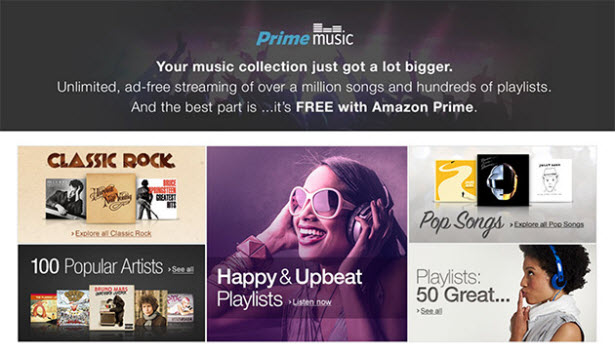 Amazon Prime Music may be one of the newest contenders similar to Apple Music, having only launched last year on June, and only boasting about a million songs in its lineup. Even so, Prime Music is adding more music all the time, and is completely free if you have an Amazon Prime account (which you probably do anyway.) Prime Music puts all of that music on all of your devices, both iOS and Android, thanks to the Amazon MP3 app, and can play your local music files as well. As long as you're online and logged in to Amazon, you can download and play any of the songs in the Prime Music catalog, keep them for offline listening, or stream them directly from the web. You can also leverage Amazon Cloud Player to store your own music in the cloud as well as shop for and buy new music all at the same time.
Amazon Prime Music also recently introduced features like human-curated playlists based on specific artists, genres, or moods in the form of Prime Playlists, and Prime Stations that give you internet radio with unlimited skips and the option to tune them to suit your tastes. Listening is ad-free, and included with your Prime membership. It's also worth noting that Prime Music streams and downloads are all variable bitrate (averaging 256kbps) MP3 format, without DRM (although all files have metadata that's identifiable to your Amazon account).
Google Play Music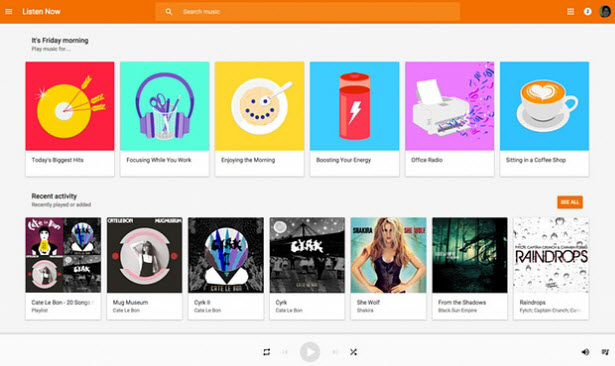 Google Play Music started out as a digital music locker where users could upload their music and access it from anywhere. It then expanded to include a digital download store, and finally a full-fledged music streaming service in 2013. The music locker feature is still available for free, as is ad-supported radio, but a paid subscription is required for the interactive service like Spotify. Their user base is growing, though an exact number of users have not been released. All in all, you can't say that Google is neglecting the service, and its 30 million song catalog, all streaming in 320kbps MP3 format, keeps its listeners happy. As a combination music player and store, you can upload your own collection (up to 50,000 songs), have it matched so you get better versions of the songs you own, and then have the option to fill in the blanks in your collection with songs and albums from the Google Play Music store.
Key Features: Hooks into Google+, 18 million songs, digital locker, great for Android users.
Conclusion
We expect the music streaming scene to continue evolving every month, but for right now, Spotify is the best pick for most people. You can also compare and get the best on-demand music-streaming service to suit your listening habits from the following table:
| | | | | |
| --- | --- | --- | --- | --- |
| | Spotify | Apple Music | Google Play Music | Pandora |
| Monthly Fee | $9.99, £9.99, | $9.99, £9.99, | $9.99, £9.99, | $4.99 |
| Free option? | Yes, with ads | Yes, with ads and limited features | Yes | Yes, with ads |
| Free trial period | 30 days | 3 months | 30 days | 2 months |
| Catalog | 30 million+ | 30 million+ | 30 million | 1 million+ |
| Maxium bitrate | 320Kbps | 256Kbps | 320Kbps | 192kbps |
| Family sharing? | Yes, $5, £5, AU$6 per month per additional user | Yes, $14.99, £14.99, AU$17.99 for up to 6 users | No | allows streaming on only one device at a time. |
| App availabilty | Windows, Mac, PlayStation, Android, iOS, Windows Phone. | iOS, Windows and Mac, Android and Apple TV coming soon. | iOS and Android apps, plus web browsers. | iOS, Windows and Mac, Android and Windows Phone; Roku and TiVo. |
| Offline playback | Only Premium users can listen to music offline. | Only Paying subscribers can listen to music offline. | Available only with an Unlimited subscription. | No |
| Music Converter | | | No | No |
Extra Recommendation
The above contents introduces some on-demanding music streaming services. There are also converters for iTunes videos, for example, M4VGear DRM Media Converter. It can convert iTunes videos to popular formats like MP4 losslessly in a 20X speed, while keeping all the audio track and subtitles. Then you can enjoy your iTunes videos on non-Apple devices.