How to Fix Error 1001?
If you still encounter the Error 1001 code after update the program to the latest version, please refer to the following solutions for a try.
Solutions:
1. Please launch Spotify seperatly and play a song, then exit Spotify and restart Sidify program for a try.
Suggestion: If the Error 1001 problem still persists, please add some music files and click "Convert" button. Then open your Spotify and check whether the play button is greyed out and unclickable as shown below?

If it is, you should be sure your Spotify music is playable by clicking "Play" button on Spotify like the below picture.
Note: If multiple devices are logged into the same Spotify account, please make sure you are selecting "This Computer" to play the audio on Spotify when using Sidify program.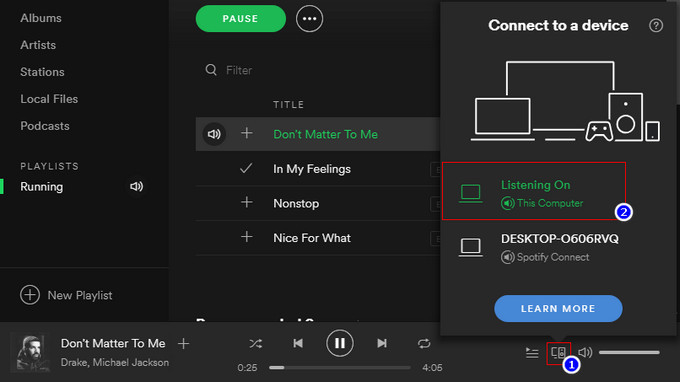 2. Please clear cache files of Spotify under "C:\Users\%username%\AppData\Local\Spotify\Data" folder.
3. Please check firewall settings on your computer, and ensure your Windows firewall is not blocking Spotify.exe.
If above solutions still cannot fix your problems, please provide the following information to our support team via [email protected]. We will submit your feedback to our developer and inform you if the solution is available.
Which Windows OS are you using? 32 bits or 64 bits?
What is the output format you choose?
Please send us two log files of Sidify. You can find them by going to the Sidify program, Menu > Open Log File. They are called record.log, Sidify Music Converter for Spotify.log and spotify.log.