Solutions to Fix "Apple Music Songs Not Downloading" Issue
Apple Music is a Library and Album orientated streaming music service which quickly gets 70+ millions of subscribers worldwide from October 2015 to May 2020. It also was ranked as one of the popular streaming music services that young people used most frequently. Yes, with Apple Music, we can search our favorite artist or album on then tab and one-click to download them, and then we can quickly find them in our well organized music library and listen to them on iPhone, iPad, iPod touch, Apple Watch, Homepod and Apple TV offline.
However, some users complain that they have issues with Apple Music songs downloading. Here is the situation: whenever you try to download songs on Apple Music, the circle spins around and nothing actually happens beyond that, or getting an error message that said "Unable to Download Songs". You have tried everything like closing Music app, restarting iPhone, changing another Wi-Fi network, but you still encounter the same problem when the next time you want to download songs from Apple Music.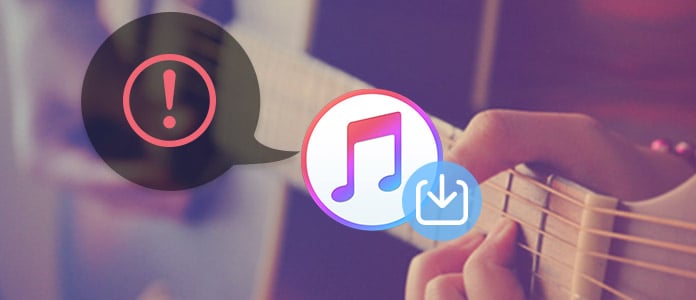 Someone might have encountered same problem when downloading Apple Music songs on iPhone, and you may wonder why this error happens and what the solutions to completely fix this issue. To help you get rid of this issue, we will answer "why your Apple Music not downloading songs" and provides some useful solutions to fix "Apple Music songs not downloading" issue.
---
Part 1: Why Your Apple Music Not Downloading Songs?
Why this error "Apple Music won't download songs" happens in your side? You tried every possibilities you know, but without luck. Here we sort out some probable causes.
No internet connection or poor network
Insufficient storage for music
Outdated iOS or iTunes
System glitch
After sorting out the probable causes, we are going to list workable solutions which are specifically related to network debugging or mobile termination resetting. Then you can see the seven possible solutions below.
Part 2: Solutions to Fix Apple Music Songs Not Downloading Issue
1. Check Network Connection
If Apple Music won't download songs, the first thing you need to check is the network connection, network interrupted or poor internet condition. You can switch network between Wi-Fi and Cellular Data or connect another Wi-Fi or hotspot. And if you are using Cellular Data to download Apple Music songs, please make sure that Apple Music is allowed to use mobile data.
You can go to Settings > Music > Cellular Data to see whether you have given the permission to allow Apple Music download songs on mobile data.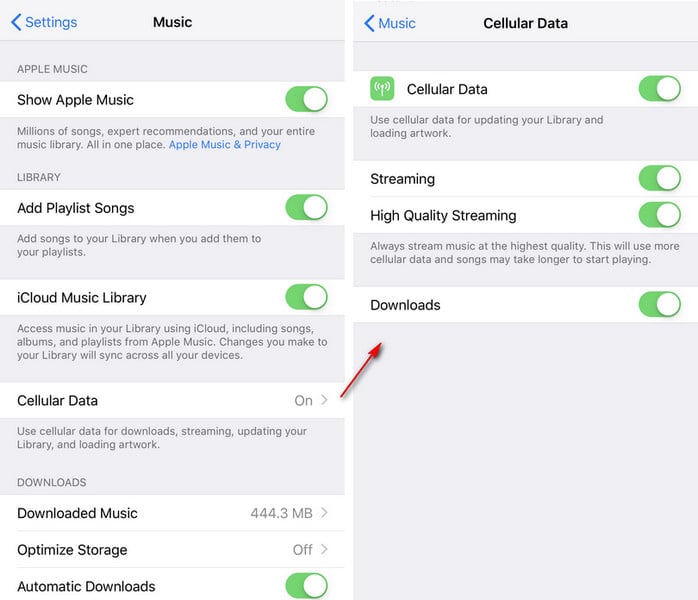 2. Circle Spins When You Downloading Album
After you search an album and download whole album from Apple Music, the circle spins around, along with album covers not loading up properly and nothing actually happens beyond that. In this case, you can free up memory space (2GB or more) on your iPhone or computer to fix this issue. You can delete some videos, clear cache, or enable iCloud photos to save iPhone storage.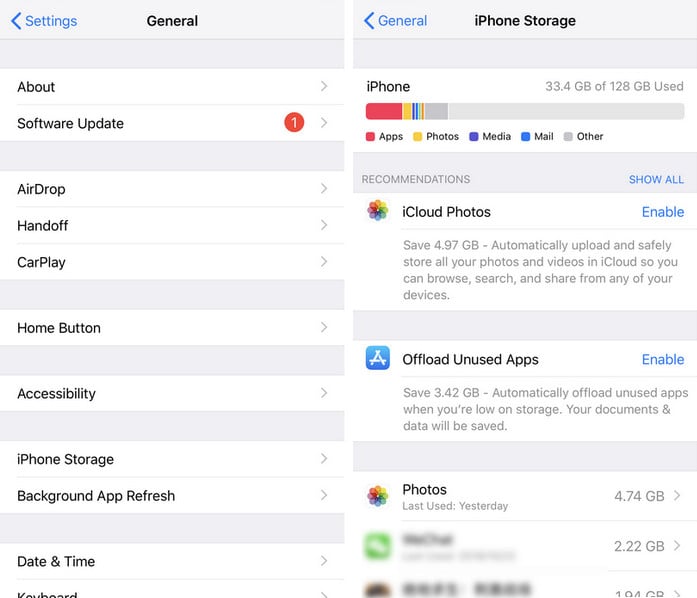 3. Delete the Item from Your Library and Re-Add it
If you have random issues like that, you can delete the item you want to download from your library and re-add it.
4. Restart Apple Music App or Restart Device
If you do not know how to deal with this issue at the first time, you can restart Apple Music app or restart your iPhone to clear junk files and close background apps, then your iPhone and Apple Music app will run more smoothly.
5. (Re)Authorize Computer with Your Apple ID
If you can not download Apple Music songs on Mac or PC, or the download process interrupted, you can try to authorize you computer or reauthorize it if you have done already. This might fix some music, movies or apps download issue.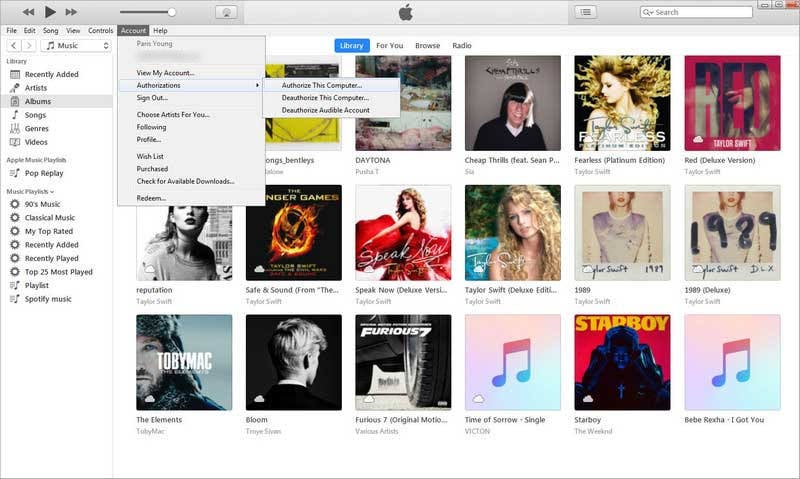 6. Sign Out Apple ID on iPhone
Software glitch might be the reason why you can not download songs from Apple Music or encounter other issues on iOS devices. In this circumstance, you can sign out you Apple ID and sign in once again to fix this issue. You can do this by clicking on Settings > Your name > Sign Out then sign in your Apple ID once again.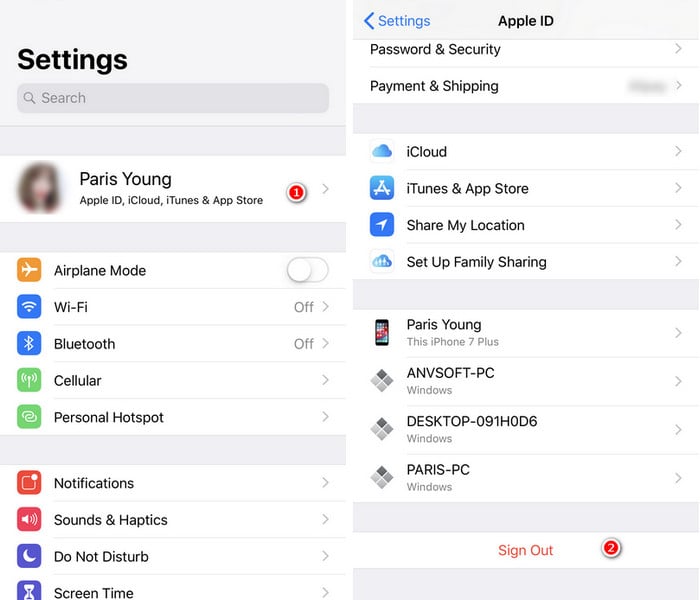 7. Update iOS or iTunes / Apple Music App to the Latest Version
Sometimes the iOS system or iTunes software bugs may cause the defects when using Apple Music, and developers will fix some bugs. So you can update iOS, iTunes or Apple Music app to the latest version to fix this issue.
Extra Solution: How to Backup and Export Apple Music Songs
In case the songs, playlists or albums you downloaded disappear or not playable due to some errors, you can backup and export your Apple Music songs, playlist and albums to computer, SD card, USB drive, MP3 player for safekeeping. You probably have tried this, but very frustrating to realize that Apple Music files are not allowed to be copied and played on any other devices. And you can only listen to the encrypted Apple Music songs on a limited Apple supported devices.
So if you want to get a copy of your Apple Music songs, you will need an Apple Music Converter to save them to your local computer. Here Sidify Apple Music Converter is able to convert them as digital copy like MP3, AAC, WAV, FLAC or AIFF with lossless audio quality kept. Then you can feel free to keep these copies on multiple devices or disc without worrying about losing your Apple Music songs. Here is the tutorial on how to export songs from Apple Music with Sidify Apple Music Converter.
Step 1: Run Sidify Apple Music Converter
Before running Sidify Apple Music Converter, make sure that iTunes was well installed on your Mac or PC, and Apple Music songs were already downloaded from iTunes to your computer.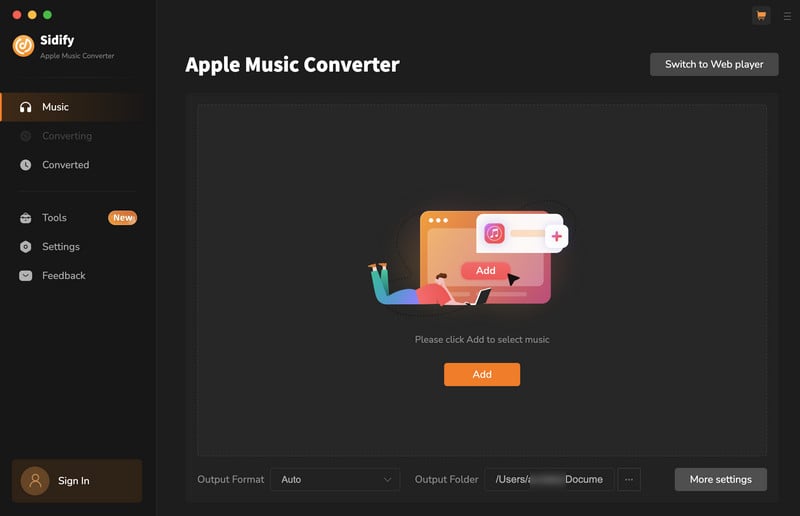 Step 2: Add Apple Music Songs
Click "+" button at the upper-right corner of Sidify main interface, then a smaller box will be shown to list your downloaded Apple Music songs from iTunes library. You can select the songs you want to convert and click "OK" to check the audio files you added.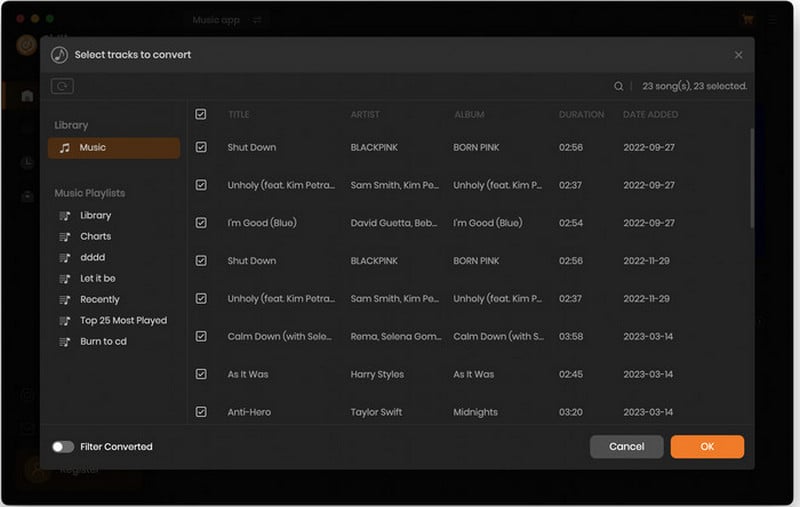 Step 3: Choose the Output Format
Click on

button at the upper-right corner and a setting window will pop up to let you choose the output format, output quality, and output path. Here you can choose MP3, AAC, FLAC, WAV or AIFF as the output format, and audio quality to 320kbps, 256kbps, 128kbps or 64kbps.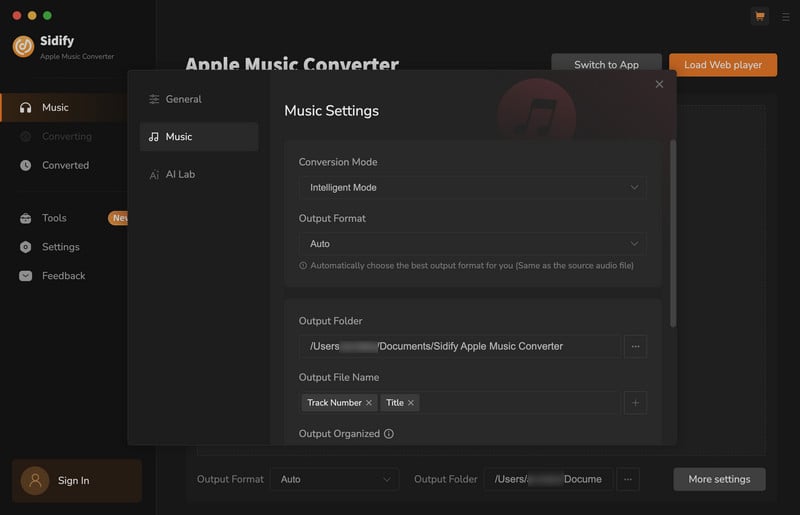 Step 4: Start Conversion
Click on "CONVERT" button to start converting streamed Apple Music songs to plain audio files.
After the conversion completed, you can click

icon to find the well-converted Apple Music songs from local drive.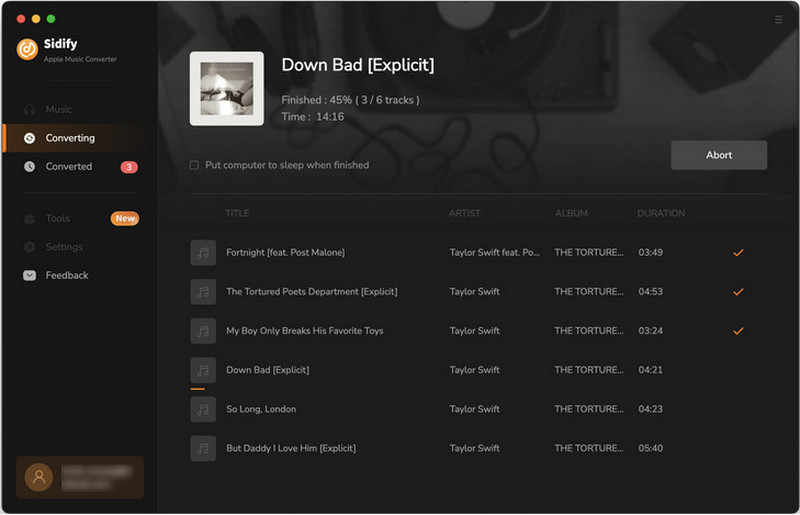 As Apple Music subscribers, we use Music app to listen to music or watch music videos daily, but sometimes Apple Music app is not working due to internet, terminal or system glitches. In most instances, we can settle it by ourselves using the solutions from the internet. So welcome to share your experience here and we learn from each other to become more experienced to deal with the technical problem in our multimedia life.
Note: The trial version of Sidify Apple Music converter has 3-minute conversion limit. If you want to unlock the time restriction, purchase the full version of Sidify now.