How to Free Download Imagine Dragons' Top Music to MP3
I know there are most renowned pop-rock singers around the world, but I know nothing and have no interest towards pop-rock music at all until I got a start with Imagine Dragons music Sucker for Pain years ago. As Imagine Dragons' fans, I might have listened to all of their albums or tracks and repeated my favorite ones, collected their CDs and also attended their vocal concerts. It seems that I am not die-hard fans, but I just feel happy and even cheer up when every time I listen to their music, especially when feeling down or depressed, and feel like "On the Top of World". It is also highly appropriate to listen to their music via speakers to entertain myself in a room.
Here I just can't stop sharing some best music of Imagine Dragons from his first EP Imagine Dragons to the latest Evolve like Believer, Thunder, Whatever it Takes, Demons etc, and sharing you guys a free way to download Imagine Dragons' music to MP3, thus you can edit them for your personal use or import to your MP3 player for offline listening.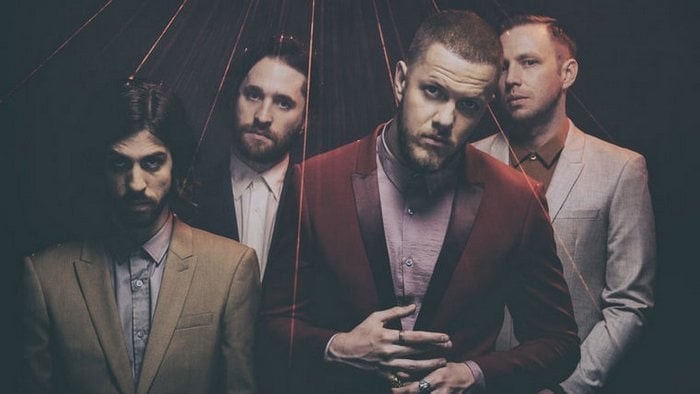 ---
Imagine Dragons' Top Music from 2009 to 2017
1. Radioactive
Album: Continued Silence
Released: October 29, 2012
"I am breathing in, shaping up, then checking out on the prison bus."

Indeed, the Radioactive AMA live show is really amazing and you will love it! Radioactive is the BGMs or OSTs of the games (NBA 2K14), films (Assassin's Creed III), and TV series (The Vampire Diaries) etc and plays a significant role in getting the band to today's position. The background story is about overcoming the struggles that come along with managing mental illnesses such as anxiety and depression. So when speaking of Imagine Dragons, you can't miss Radioactive.
2. Demons
Album: Night Version
Released: January 28, 2013
"I want to hide the truth. I want to shelter you. But with the beast inside, there's nowhere we can hide"

Demons made a big success after Radioactive and this is a song I love it when the first time I heard it. It is lyrically deeper compared to some other Imagine Dragons' songs and the music video also impressive. You might have different views toward the hiding meaning after watch its music videos, and have different understanding every time you watch. Just conquer the demons in your heart.
3. Believer
Album: Evolve
Released: February 1, 2017
"All the hate that you've heard has turned your spirit to a dove…"

Needless to say, Believer is the leading track from the album Evolve and conveys the good idea of the overall album. If you have never listened to Imagine Dragons before, just start from Believer and you will find that it is so amazing and you can't help listening to the rest songs from Evolve, even though the overall album is charged on some music services, it is worth, because all of them are well-made. By the way, Believer is one of the BGM of the 104th Bodypump, perfect fitting.
4. Thunder
Album: Evolve
Released: April 27, 2017
"I was dreaming of bigger things. And wanna leave my own life behind."

Honestly, i am a little refusal when I listened to this single at the first time, because I didn't understand what the rhythm is. And I was brainwashed by lyric "thunder" over and over again when the second time I listened. I admitted that I started loving it at the third time I listened. Thunder is a very inspirational song encouraging everyone who wants to give up, and makes us believe that we can make a step by hard working.
5. Whatever It Takes
Album: Evolve
Released: May 8, 2017
"Everybody hoping they could be the one. I was born to run. I was born for this. Whip, whip. Run me like a race horse."

Whatever It Takes is an ode to Dan's own ambition - accomplish something with his life and doesn't want to give up until he's done it. The lyrics are genuine and honest, and full of power. In addition, the song also carries an insanely powerful chorus that connects more so with Imagine Dragons' classic sound than that of their recent releases. It is continued to be powerful as before, but also distinctive when you heard it at the first time.
6. Walking the Wire
Album: Evolve
Released: June 15, 2017
"I promise you from up above. That we'll take what comes, take what comes."

Walking the Wire is my favorite song among all the songs, because it is different in some sides compared to other singing patterns. But the lyric is still rocks and inspirational. The fancy drums and the roar are into the depth of sour. "We're walking the wire", "Look out down below", and "We'll take what comes", very simple but heart-stirring. Besides, the other songs including "On the Top of the World", "It's Time", "I am So sorry" also the best songs of them, and you will have your own choice and find joy from your music world.
Just enjoy Imagine Dragons' popular music on Spotify
How to Free Download Imagine Dragons' Music to MP3?
If you want to download Imagine Dragons' music to MP3 for streaming on other portable devices or editing on other programs, you can turn to Sidify Music Converter Free for help. It is totally free Spotify music converter which helps you download Spotify music or playlists to audio format as MP3, AAC, WAV or FLAC, one-click share the music you download from Spotify via Email or burn them to CD for enjoying in home or car audio system. And we would show you how to free download the music or playlists of Imagine Dragons to MP3 in the following part.
Step 1. Download and Install Spotify Music Converter Free.
Download and install Spotify Music Converter Free on your PC from the download button above, then launch it.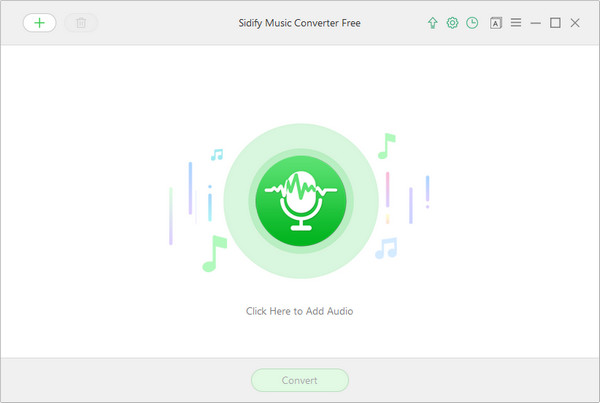 Step 2: Add Imagine Dragons' Music.
You can click

button or "Click here to add Audio" to add Imagine Dragons' music from Spotify.
Then, a new window would pop up to let you add Spotify music. You can go to Spotify app and search for Imagine Dragons' music or playlist you want to download, then click "Share" and click "Copy music url" to copy and paste the music URL, or you can drag & drop the playlist link of tracks or playlists from Spotify to the window.

Step 3. Customize the Output Settings.
You can click OK" to finish adding music files from Spotify. Then click

button to change the basic parameters including Output Fornat, Output Quality and Output Path. Here you can choose format as MP3, AAC, FLAC or WAV and adjust output quality up to 320 kbps.
And you can check "Keep output folder organized" selection to store the output audio into Artist folder automatically.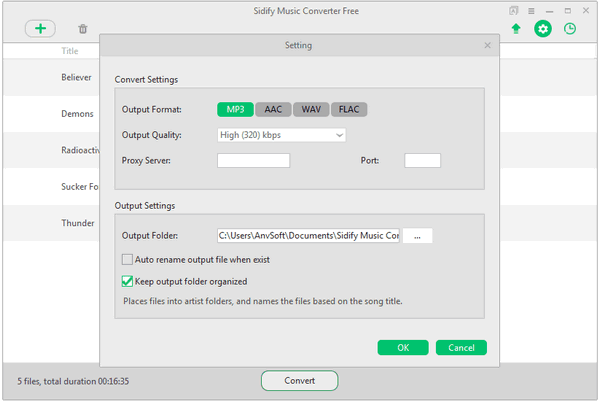 Step 4. Start Downloading Imagine Dragons' Music.
Press the Convert button to start downloading Imagine Dragons' music or playlists to MP3 or any other format you choose.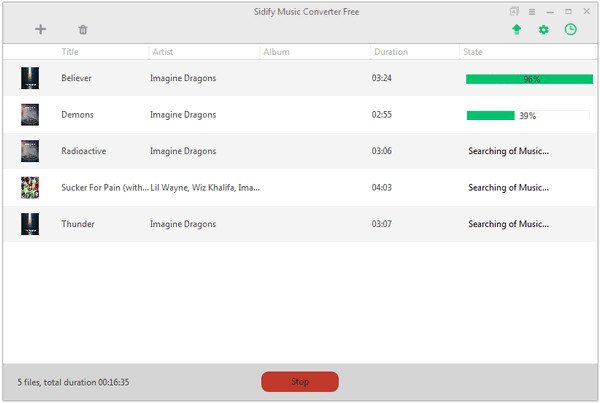 After finishing downloaidng, you can click

button to find the well-downloaded MP3 file on the top right corner. And now, you can enjoy Imagine Dragons' music freely on MP3 player or another audio devices.
Music is the way of self-healing when feeling down or depressed, and Imagine Dragons' music have this kind of power. Just keep patience with the things we are doing; keep brave and take what comes.