Sidify Tidal Music Converter is a useful Tidal music tool to help Tidal Free, Tidal HiFi and HiFi Plus users to download and convert music from Tidal to MP3, AAC, WAV, FLAC, AIFF, or ALAC format. It supports 10X faster conversion speed and keep Hi-Fi and Master Audio Quality (limited to Tidal HiFi or HiFi Plus subscribers) after conversion. Now let's learn how to register the program and how to use it to download Tidal music to your computer.

Download PDF User Manual of Sidify Tidal Music Converter for Windows
How to Register Sidify Tidal Music Converter for Windows
Sidify Tidal Music Converter for Windows is user-friendly. After you purchase a license, you will receive a confirmation email, including your registration information.

Download and Install the latest version of Sidify Tidal Music Converter for Windows

Purchase Sidify Tidal Music Converter for Windows here
Step 1Click the "Menu" icon in the upper right corner of the screen and click "Register" to open the registration window. Or you can directly click the "Register" icon at the left corner of the program to open the registration window.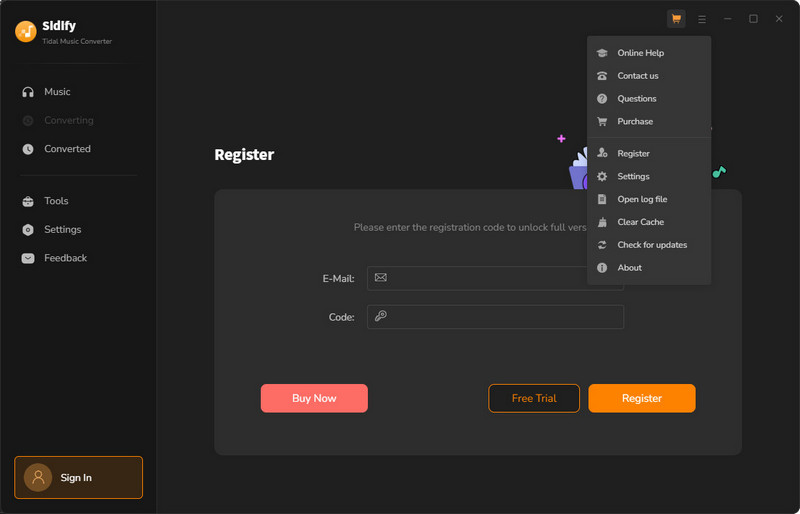 Step 2 Copy and paste your registration e-mail & code and click "Register/Confirm" to complete the registration process.
How to Use Sidify Tidal Music Converter to Download Music from Tidal
Step 1 As you run Sidify Tidal Music Converter, please choose one conversion mode as you like. (>> App Mode vs Webplayer Mode)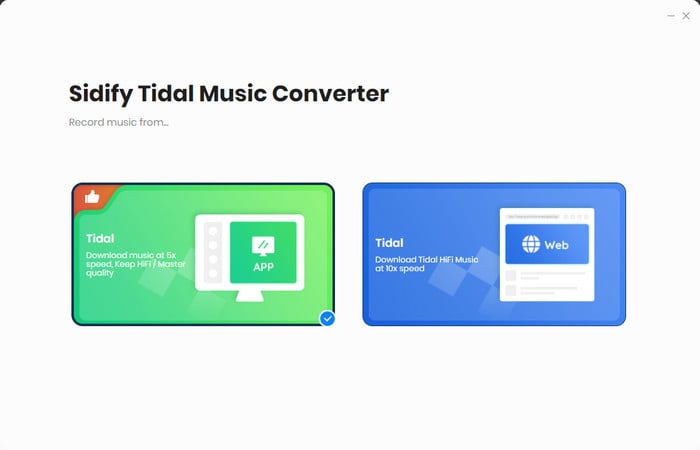 Step 2[App Mode]: Dircetly drag songs from the Tidal app and drip them to Sidify Tidal Music Converter. The program will read and put the songs on the conversion panel.
[Webplayer Mode]: From Tidal Webplayer window, open a Tidal album, artist or playlist, and tap the orange "Click to add" button floated on the right side, and the program will list all songs in the Add window.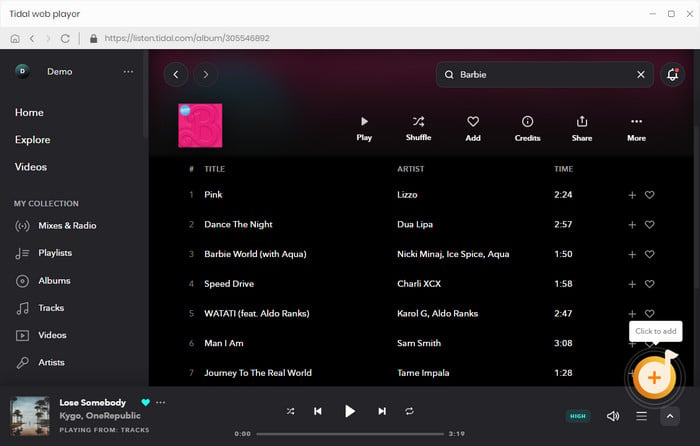 Now all you need to do is to select the songs you want to convert. Then, click the "Add" button to put the selected songs to the converter panel.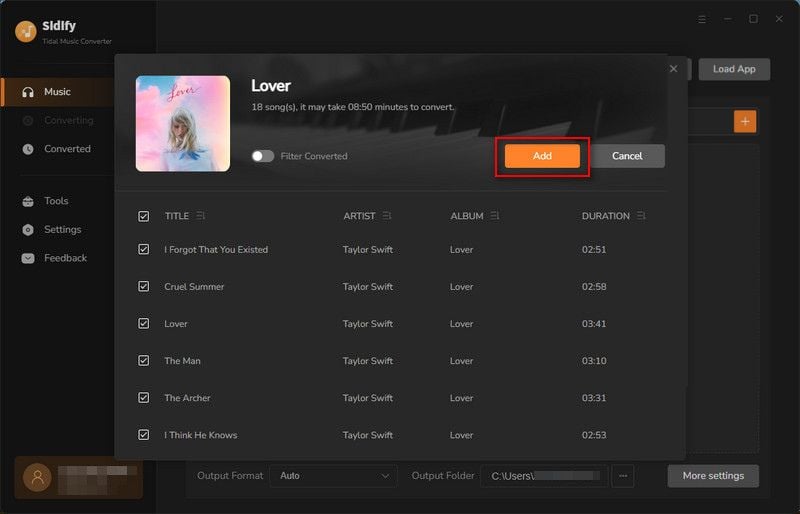 Step 3Locate the "Settings" tab at the left panel. Here, you can firstly customize the output parameters you like. After that, close the window to apply the changes.
Output Format: Auto, MP3, AAC, WAV, FLAC, AIFF, ALAC
Bit Rate: 320kbps, 256kbps, 192kbps, 128kbps
Sample Rate: 44.1KHz, 48KHz, 96KHz, 192KHz
Output File Name: Track Number, Title, Artist, Album, Playlist Index, Year
Output Organized (way): None, Artist, Album, Artist/Album, Album/Artist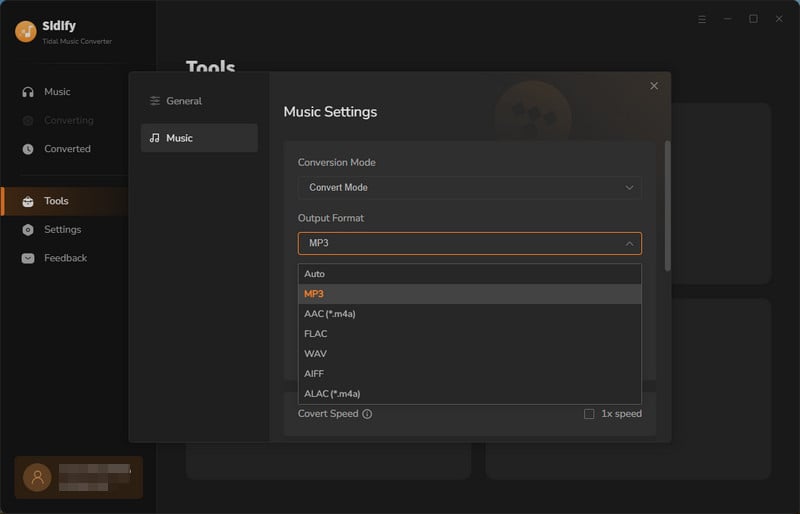 Step 3Once you put all your desired songs to the conversion panel, you can now tap the "Convert" function to start the process.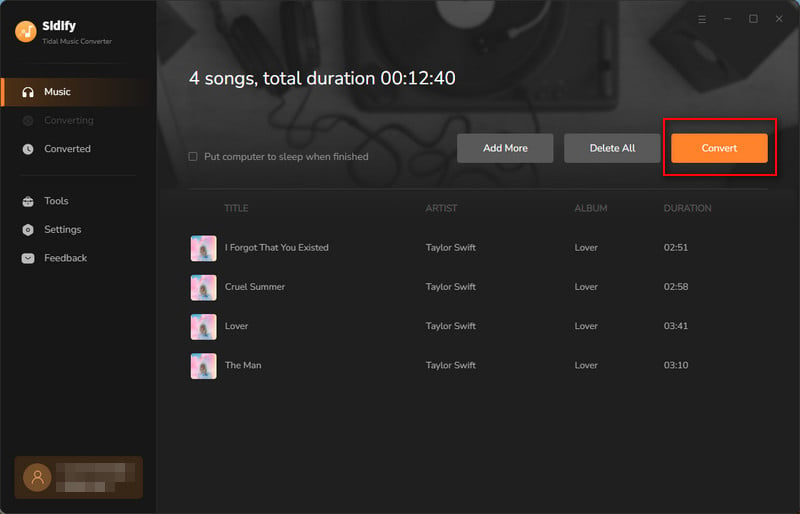 The conversion will proceed at 10x speed.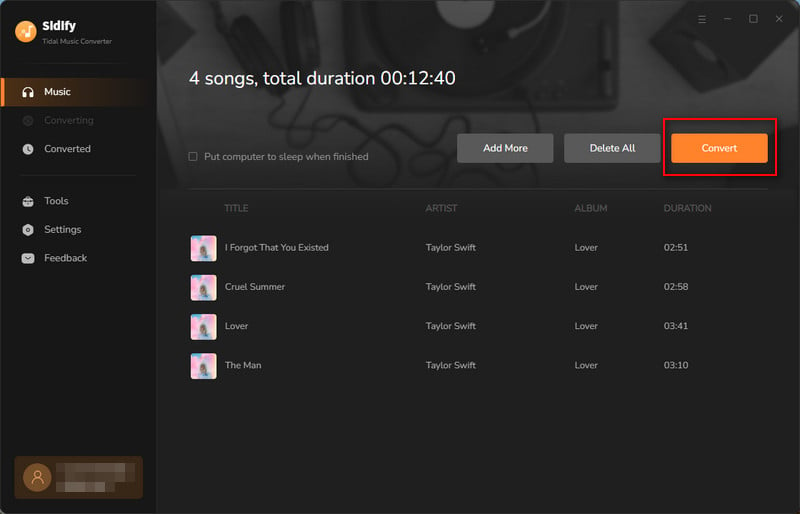 Step 5 When the conversion is done, you can click the "Converted" tab to find the well-downloaded Tidal music.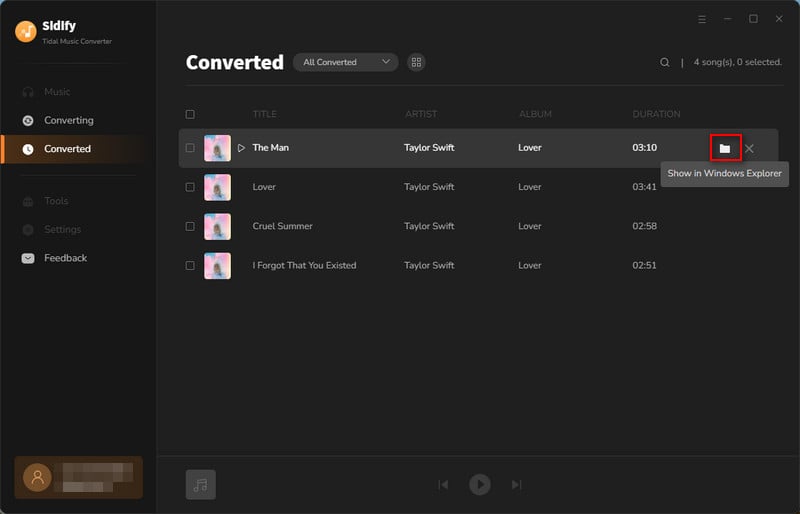 How to Convert Local Audio Files to MP3/M4A/FLAC/WAV/OGG/AIFF
Sidify Tidal Music Converter comes equipped with a toolbox that users can take full advantage of.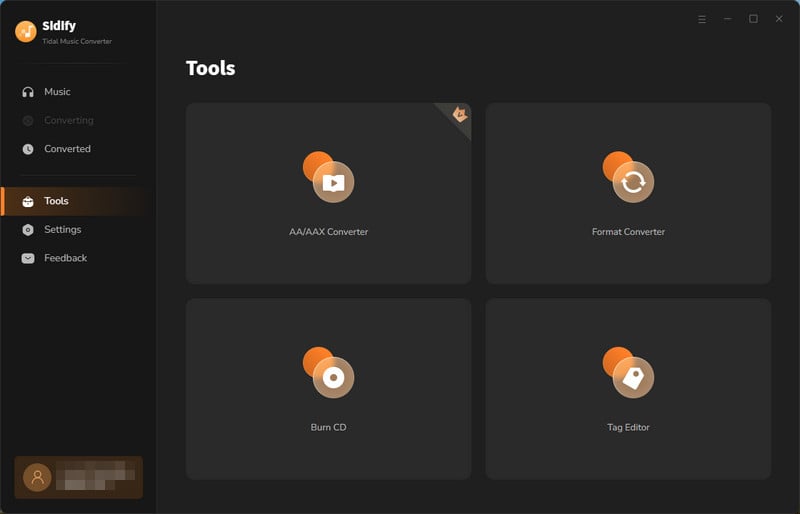 With built-in "Format Converter", you are allowed to convert your local audio files to MP3, M4A, FLAC, WAV, OGG, AIFF for playback on other more portable devices. Click on "Tools" - > "Format Converter" to open the "audio converter" window, then add your local songs to this window to convert.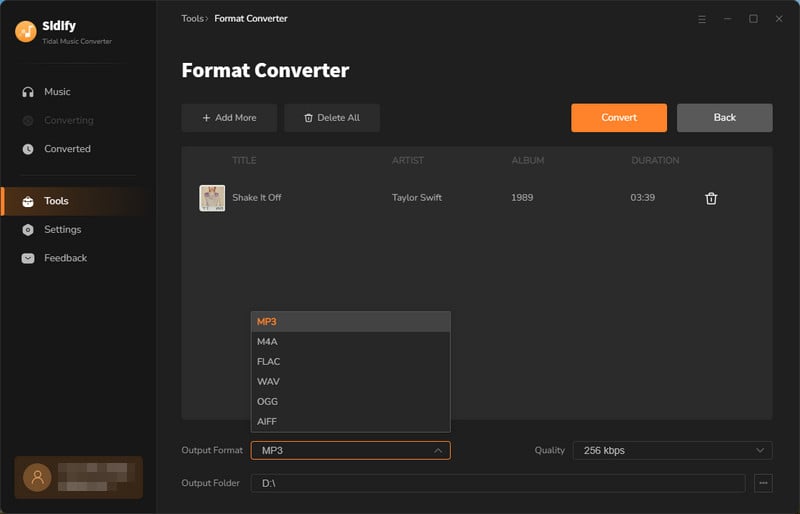 How to Burn Tidal Music to CD
If you want to continue to burn the output files into CD, you just need to Insert a blank CD disc and click "Burn CD" button to burn the converted Tidal music to CD. Click on "Tools" - > "Burn CD" to add more local music files and start the burning process.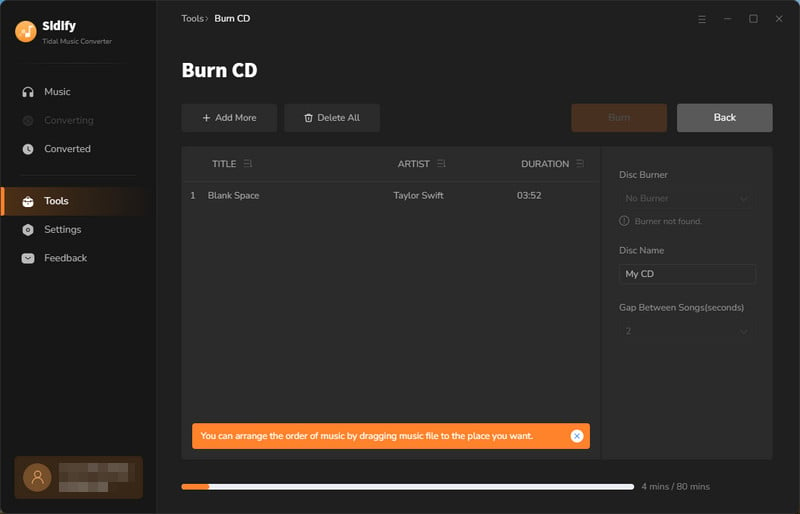 How to Edit Music Tags
The music tags editor built into Sidify Tidal Music Converter offers several benefits, including improved organization, enhanced search capabilities, consistent naming conventions, and compatibility with various devices. By using this editor, users can ensure that their music collection is properly labeled and categorized, making it easy to manage and enjoy.