Easiest Way to Transfer Audible Audiobooks to SanDisk Sansa
SanDisk Sansa is a product line of portable media players produced by SanDisk. It mainly includes SanDisk Clip Sport series and SanDisk Clip MP3 Players. SanDisk players are reasonably priced. And they possess convenience and portability, which enables you to listen to the music, audiobooks and watch favorite video clips from wherever you are.
Audiobooks are increasingly favored by people because of the fast life style in the modern life. They can be enjoyed at any time. SanDisk Sansa players support a wide array of audio formats, including MP3, secure WMA (subscription music), WAV, FLAC, OGG, etc. For the high quality sound packed, people are willing to use Sansa players to play audiobooks.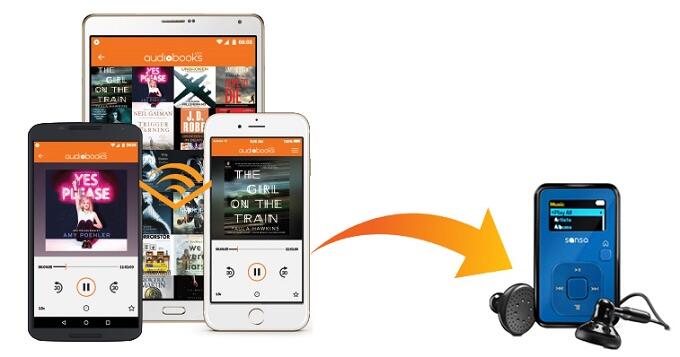 However, you can't listen to Audible audiobooks on SanDisk Sansa player directly. That's because audiobooks you downloaded from Audible are in .aa and .aax formats with DRM protection. Luckily, the following article, we will show you two ways to let you play Audible audiobooks on Sansa player easily.
Method 1. Using Audible Manager to Transfer Audible Audiobooks
To transfer Audible audiobooks to SanDisks Sansa device, you will need to use Audible Manager. To activate your SanDisk and then transfer audiobooks to the Sansa player.
1. Connect the SanDisks Sansa device to the computer. And then open the Audible Manager.
2. Click Device > Add New Device.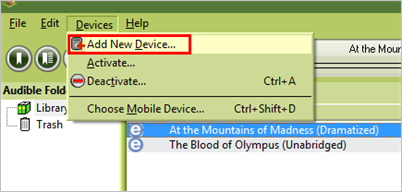 3. Select Sandisk Sansa player from the listed provided. And you will indicated to install a plug-in of the Sansa device.
4. Launch the Audible Manager again, you will find the SanDisk device will appear under the Mobile Devices section located in the bottom left corner. Right-click on your device. Select Activate. You will then be prompted to enter the email address or username you use for Audible and your password.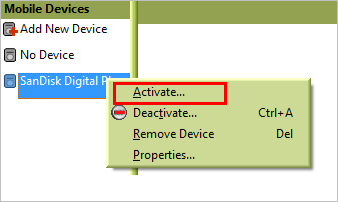 5. Select the Audible audiobook you would like to play on Sansa player, and click Add to Device, then the transferring process will start.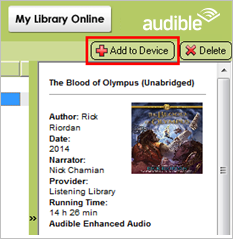 Method 2. Convert Audible Audiobooks to Sandisk Sansa
Audible Manager is only available for Windows computer, so you can't use this application on your Mac. On the other hand, not all SanDisk Sansa players can support Audible audiobooks. Sansa Clip Sports and Sansa Clip Jam are not compatible with .aax file formats.
So if you want to play Audible audiobooks on your Sandisk Sansa players freely, you can remove DRM from Audible aa or aax audiobooks and convert them to Sandisk Sansa. Here Sidify Apple Music Converter is highly recommended for you. It is an all-in-one Audible Audiobook Converter as well as iTunes Music Converter. With it, you can legally strip DRM from Audible AA, AAX audiobooks by converting them to M4A and M4B easily. it is highly compatible with both Windows and Mac platforms, you don't have to worry about the compatibility issue.
Now download the free trial version of this Audible Audiobook Converter and follow the tutorial below to start to convert Audible audiobooks to plain formats for syncing to your SanDisk Sansa player.
Step 1: Import audible audiobooks to the Audiobook Converter.
Launch iTunes, you'll need to authorize your Audible account by selecting Account → Authorization → Authorize Audible account. On iTunes, click "File>new>playlist" to creat a new playlist and name it after the title of the audiobook. Then, drag the audible audiobooks into the new playlist.
Then install and launch Sidify Audible Audiobook Converter on your computer, and you can click

icon button, it will pop up a window and switch to the AudioBooks section. Now you can choose the audiobooks you want to convert.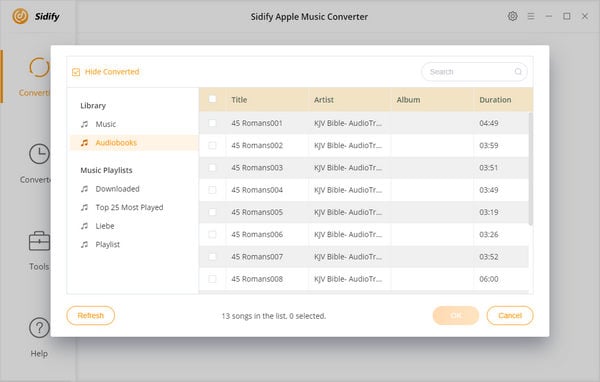 Step 2: Set the Output Format.
You can click

button on the top right of the interface and set the output from the Settings window.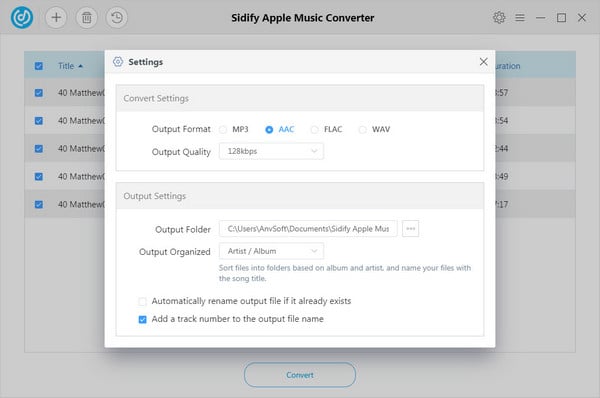 Step 3: Start removing DRM from Audible Audiobooks.
After all settings done, you can click Convert button to start removing DRM from the added Audible audiobooks. After the conversion is completed, you can find the DRM-free audiobook files on the history folder.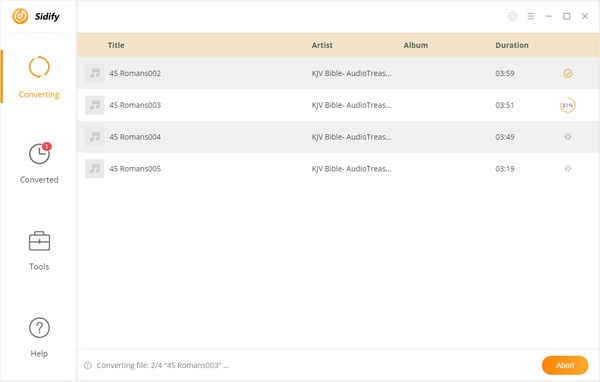 Step 4: Transfer the DRM-free Audible audiobooks to SanDisk Sansa.
Connect SanDisk Sansa device to your computer using a USB cable, The Sansa Drive will be listed as a removable disk. Double-Click on the Removable Disk. And then drag and drop the converted Audible audiobooks to the specific folder of your Sansa device. When the transferring process finished, you can disconnect the Sansa player from your computer. Now you can play audible audiobooks on sandisk sansa without any limitations.
Note: The trial version of Sidify Apple Music converter has 3-minute conversion limit. If you want to unlock the time restriction, you'll need to spend just $39.95.