6 Best Android Music Player Apps
The way we listen to music has changed a lot these years. Our music players have been replaced by smartphones gradually. So we have lots of choices when it comes to music player apps on Google Play Store. While it is good to have so many options to choose from, finding an ideal music player app isn't easy. Whether you're a casual listener or have thousands of songs to manage just the way you want, here are our picks for the best music player app on Android.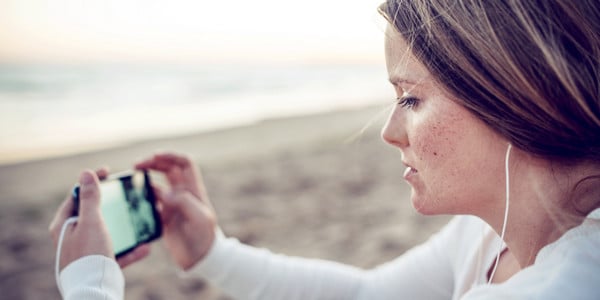 1. BlackPlayer
BlackPlayer is a simple, but elegant music player with a clean, configurable interface that packs decent features under the hood. Swipe controls let you easily navigate the library's various views (track, album, artist, genre) as well as playback. Vertical swipes to bring you to next or previous tracks. It supports gapless playback, lyrics, built-in equalizer along with the freedom to use a third party equalizer. There's also support for bassboost & 3D surround virtualizer along with ability to edit tags and other details of a song, artist or album. BlackPlayer also comes with good looking widgets, automatic or manual album art management, scrobbling, sleep timer and more. It is available in a free version and it doesn't feature ads. There's also a paid version which brings additional features.
DOWNLOAD: Free / Paid Version:$2.00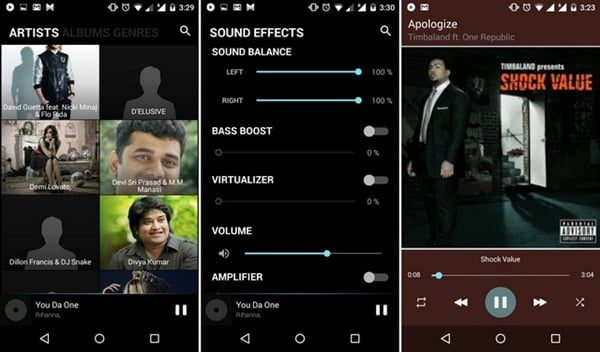 2. Poweramp
Poweramp has been a famous music player on Android and it still remains a solid option. Big album artwork in the "Now Playing" view, a crisp and clean layout and some pretty amazing customizations. Poweramp supports themes and has a bunch of tweaks you can make in the settings, so you can really create the music player you've always wanted. There are tons of features and they are wrapped in an attractive yet complex looking user interface. The app includes support for a wide variety of audio formats, a 10-band graphic equalizer, support for lyrics, .cue files and numerous playlist formats. A tag editor, fast library searching, home and lock screen widgets and numerous visual and setting customizations make Poweramp a heck of a choice.
DOWNLOAD: 15-Day Free Trial / Full Version:$3.99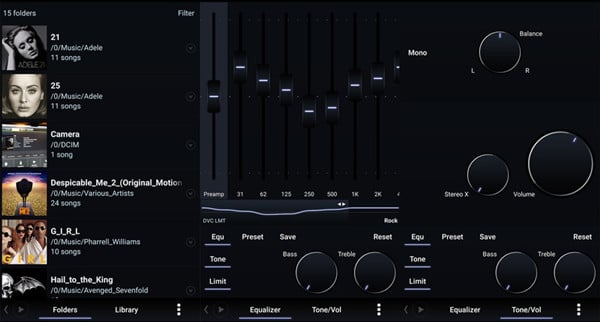 3. n7player
n7player features an innovative UI for searching through and navigating your music collection. Gesture navigation then lets you zoom in on a tag to view a wall of album covers, giving the music player a nice spatial element. Coming to the music playing features, the app supports most popular formats. Besides the unique UI, n7player is also a decent audio player with a 10-band equalizer, environmental effects, bass boost and surround sound virtualization. n7player also brings tag editor, album art grabber, scrobbling, lyrics support along with support for lockscreen configuration and headset button configuration.
DOWNLOAD: 14-Day Free Trial / Full Version:$3.49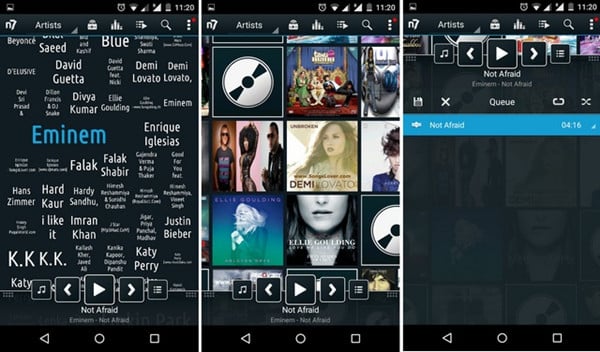 4. Shuttle
Shuttle Music Player is an intuitive, lightweight and powerful music player for Android. It supports various audio formats and gapless playback, 6-band equalizer with bass boost, embedded lyrics and more. It also takes full advantage of Android UI features, with lock screen and notification controls and widgets. Users who upgrade to Shuttle+ gain additional interface customizations, as well as tag editing and Chromecast support.
DOWNLOAD: Free / Plus Version:$0.99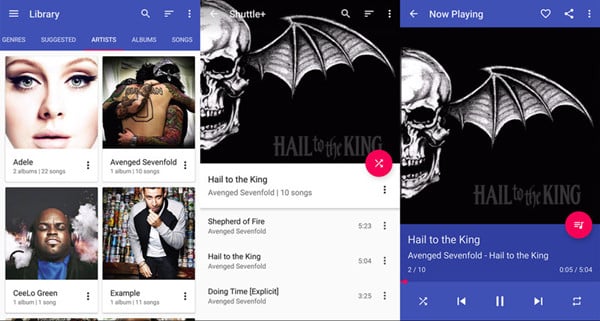 5. Google Play Music
Google Play Music is pre-installed on most Android smartphones these days. Not just a music player, but we have to include it. While it doesn't have the deep customization or power features of something like Poweramp, it offers what many others do not; that huge cloud library for your own music. It can read the files on your device and act as a regular player, or you can upload up to 50,000 of your songs to Google Play Music and stream them if you prefer. Of course, it also comes with an optional subscription that gives you access to all the content on Google Play Music. Like all Google apps, Play Music too features the Material Design UI but oddly, it doesn't seem to be implemented that well. Yes, there's the tinted status bar and lots of colors but there's no action button.
DOWNLOAD: Free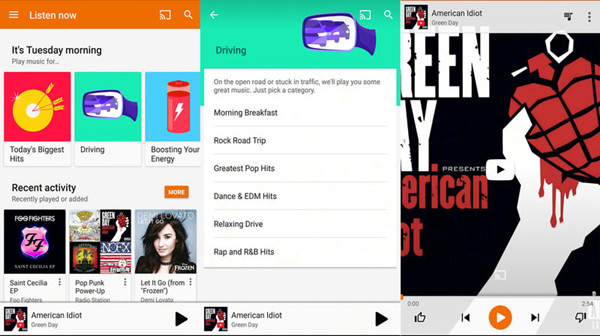 6. doubleTwist Music Player
DoubleTwist is an powerful audio player with support for music, podcasts and radio. The app's Magic Radio feature provides a customized mix of songs based on your existing library. With it you can instantly sync iTunes or Windows Media Player playlists from your PC to your phone via USB. DoubleTwist can also stream your tunes to your Xbox 360, PS3, Sonos speakers and other devices. This handy app is very functional, with a refreshed design, artist bios and photos that accompany your favorite tracks.
DOWNLOAD: Free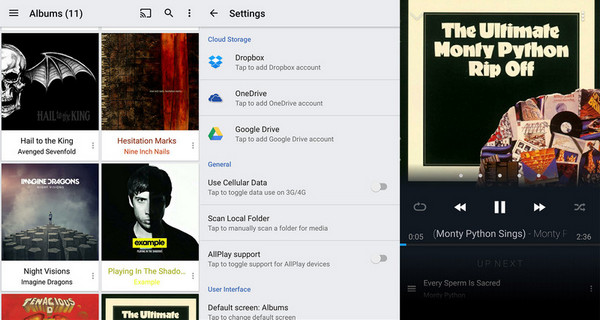 Summary
Besides those mentioned above, there are still lots of powerful music player apps for Android, such as Spotify, an all-in-one music player. In addition to over 30 million tracks from Spotify catalog, you can also use your Spotify app to play music files stored on your computer. But have to remember that this feature is for Premium users only. I believe that this one fits your needs most to be your music player on phone. We also made a list of what people like or dislike of Spotify.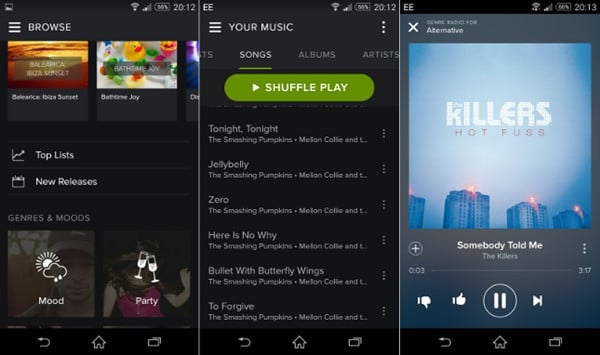 If you have subscribed Spotify Premium or Apple Music and want to save the songs downloaded forever or play them with your music player app on Android, as all the music files are protected, we highly recommend Sidify Music Converter for Spotify and Sidify Apple Music Converter.
Sidify Music Converter for Spotify (Mac)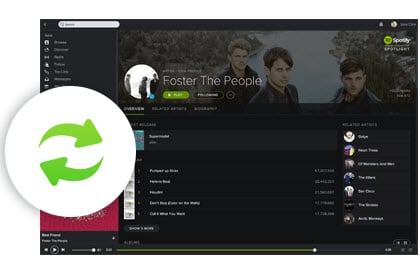 In common sense, it is impossible to extract MP3 files from Spotify music. We can not download Spotify songs for enjoying on car player. Sidify music convert for Spotify can save songs from spotify as local files. It is very easy to use. It helps convert them to MP3/AAC/WAV/FLAC in a faster speed without losing any quality. In that way, we are able to enjoy the Spotify even we are offline. We can play the Spotify songs on car player or other devices as long as they support MP3/AAC/WAV.